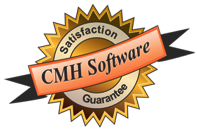 We are confident that our software will work for you. We back our software with a money-back guarantee. If you are not completely satisfied with your purchase, CMH Software will gladly refund you the purchase price (excluding shipping/handling) within 30 days of purchase.
That being said, we highly recommend that you download and install the free trials of our software, so you can determine if the software meets your needs before deciding to purchase. Details of which features are included in the free trial versions of the software are available on the product download pages.

Before You Return Your Software...
There are millions of different configurations of computers on the market and we do our best to keep up with them. If you have problems running the software or you don't see a feature you need, the answer may be a simple e-mail or phone call away.
We've been in the electrical software business for over 20 years and our support staff has a great deal of knowledge and would be happy to help solve any problems you may have.