School and Academic Discounts
Schools may request a
20% discount
from our normal retail prices on the Constructor, Instructor and Residential Wire Pro software. This discount will apply to single copies and multi-seat copies, but does
not apply
to site licenses. Site license prices are already discounted.
Please call for more information or for a quote.
---
Student Discounts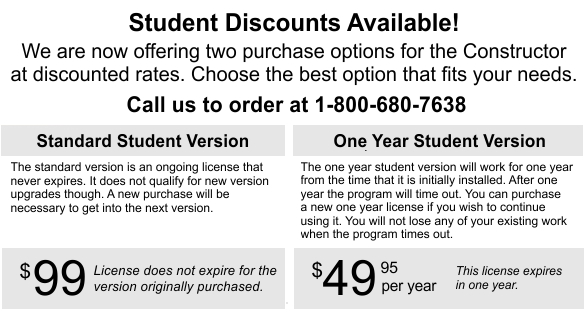 We offer students who qualify, the Constructor Student version at a special student price of only $99.00 for a standard license or $34.95 for a yearly subscription license. The only difference between the student version and the full retail version is that the student version is not upgradeable. To qualify the student must be attending a college, university, vocational or trade school. High school students
do not
qualify. The student must send us a copy of their student ID and the school name and telephone number to qualify for this special pricing.
We offer even a better deal if school instructors provide us a list of students from their classes that might be interested in a Constructor student version. If you're on the list and call, your price for a Constructor student version is $99 and you receive a free
Instructor Teaches Motor Control 101
CD ($79 value). The list is only used by us to verify the student ID.
Instructors to provide us a student list, just fax (406-293-5075) or email
sales@cmhsoftware.com
it to us with your name, school name, class title and class starting and ending dates.
---
School Bookstore - Student Discounts


We also offer school bookstores special pricing for our Constructor software:
Standard student versions:
$94/ea (Minimum purchase of 10 copies)
$89/ea (Minimum purchase of 25 copies)
Subscription student versions:
1 year subscription - $31.45/ea (Minimum purchase of 10 copies)

It's a great deal for students/classes requiring the Constructor.
---
Training Material


Electric Motors and Control Systems
by Frank Petruzella
Take a look at this new book/activities manual for electric motor and control systems training.
---
Order Now
Call
1-800-680-7638 or 1-406-293-4977
Monday-Friday, 8:00am. - 4:30pm MST
Payment options: Credit card (Visa, MasterCard, Discover) Check, Company/School Purchase Orders or Wire Transfers
See also our electrical/electronic/hydraulic reference posters and cards.

More Information on Posters